There are many sites on the web with information and instruction on The Season of Teshuvah. For me to rewrite or develop new teaching for this blog could not be as detailed or as fruitful as what is already available. So what I am doing is reviewing some of the information available out there and giving a synopsis of some of the sites with a link to get the full material. I hope you will take the time to visit these sites and also support them for the fine work they have done.
Many Christians have knowledge and understanding concerning the seven feasts of Israel, as traditionally taught in North America. However, many are unaware of an ancient Hebrew concept called Teshuvah, a word alluding to repentance, and how it is linked to Moses interceding the second 40 days when Israel sinned with the golden calf (Exodus 32).
The 29 Days of Elul will begin August 6th,2013 and continue until the feast of Trumpets on September 5th,2013. Then there are ten days of awe when it is believed the gate of heaven is uniquely open for our petitions and intercession. This season climaxes on the Day of Atonement, September 14th,2013.
BK-TESH The 40 Days of Teshuvah Book, Perry Stone. Link:
40 Days of Teshuvah
Elul

: The Month of Repentance

This month is the sixth after the month of the exodus of the Children of Israel from Egypt. Its name, which the Children of Israel brought up from Babylon, is Elul. The Scriptures call it "the sixth"; only Nehemiah calls it Elul.

The word Elul (אלול) is an acrostic formed of four Hebrew words from Song of Songs combined together in this way: ani ledodi vedodi li (אני לדודי ודודי לי), "I am my beloved's and my beloved is mine" (Song of Songs 6:3). How appropriate are these words! So it is, for the days of the month of Elul are days of repentance. They are days of compassion and grace, days of love, days of intimacy--so say many early and late sages and scribes (of blessed memory) in their books. If we repent, the Holy One, blessed is He, satiates us with grace. If a man declares, "I am my beloved's," it is certain that [God] will likewise respond, "and my beloved is mine."

Before the High Holidays, it is the duty of every son of Israel to awaken himself and to look around himself and to make an accounting of himself. How good is the counsel of the Sages! For there is nothing in this world as good as repentance. Please turn, O Israel, please turn to the LORD, your God. Indeed, a voice is calling to you from above. The gates of repentance are forever open.

The words of Rabbi Eliezer produce a good fragrance like a bundle of spices. His disciples once asked him, "How shall we do repentance and live?" Rabbi Eliezer answered and said, "the LORD will answer on the day of trouble [Psalm 20:1], as it is said [in Song of Songs 5:4], "My beloved sent out his hand through the opening, and my feelings were aroused for him." So too, the LORD stretches out His hand to us and awakens us during the season--the season of intimacy--so that we will repent and live. So said the holy Yochanan, "God is love, and we love Him, for He first loved us" (1 John 4:8, 19). The LORD declares, "Return to Me, and I will return to you" (Malachi 3:7).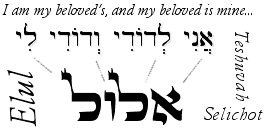 Hebrew for Christians by John J. Parsons has an excellent study of the Season of Teshuvah.
While on the site you can study there or they allow you to print out the material for personal use.
The Spear family turned their attention to music shortly after Sam and Angela got betrothed and married in 2010. The name 'Teshuva' was spoken to them in a dream during their first pregnancy. When that pregnancy ended in miscarriage, they felt the Father had given them that name for the music He was birthing in their family. Teshuva's heart is to present the message of repentance with a balance between purity and creative artistic expression. The First Five EP is exactly as it states...the first five recordings that have materialized out of this relationship. - See more at:
Teshuva Music Store